Since this guy didn't die, I feel like it's okay for us to laugh at him.
On Monday, 40-year-old Brian Reynolds of Lynn, Massachusetts was driving his 1987 Chevy truck when the brakes stopped working.
His first instinct was to try to stop the truck FRED FLINTSTONE-style . . . by opening the door and dragging his foot along the ground. Believe it or not, that didn't work.
His next plan was to try steering up a hill to slow the car down. But when he turned, he FELL OUT of the door. He rolled out . . . and his runaway truck RAN OVER HIS LEG.
The truck kept rolling, and somehow didn't hit any people or even any other cars. It finally hit a fire hydrant and stopped.
Brian was hospitalized with a minor leg injury. And just to make SURE it was the worst day of his life, the cops gave him a $35 ticket for driving with defective equipment.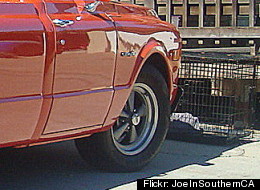 ---